My mom just gave me this book to read: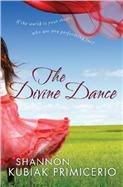 I am not a dancer in that I take any lessons like ballet or tap, etc. but in this book the dance is a metaphor for our lives. We each dance a dance....
If the world is your stage, who are you performing for?
My notes from just through the first chapter:
"God did not create you to dance for this world.
He intended for you to dance for Him!"
When you get up on the stage (of life) and seek your own glory, or seek the world's approval or applause, you break God's heart. You miss dancing The Divine Dance because you are too busy dancing for men and princes to notice the King. God designed you to glorify Him. He designed our Divine dances so others may see the Lord through us and want to glorify Him, too!
" These are pivotal times (teen years) in our lives. The choices we make from here on out will define who we are. The costumes we wear will label us. Adulthood is just around the corner. Soon enough, nobody will make choices for us anymore, and as nice as that sometimes sounds, a lot of responsibilty comes with that. So we must practice making wise decisions right now. Dance for the One who

deserves

to be worshipped. Dance for the One who

desires

to be worshipped. And dance for Him alone. We hold center stage in God's heart. No matter our music or our style, we should dance unto the Lord. Not only will we be changed, but we will also change others with our song."
~ With the world's dance, there is a lot of glitter, but in God's script, there is gold!~
This book is so good, I just wanted to share some of it. I receommend
The Divine Dance
by Shannon Kubiak Primicerio to all teen and pre-teen girls.